Updates on the horizon for our Shopify tech partner, Rebuy
We implement Rebuy in about 3 or 4 different places and it's immediate ROI." – Brandon Armoroso, Founder & CEO of Electriq Marketing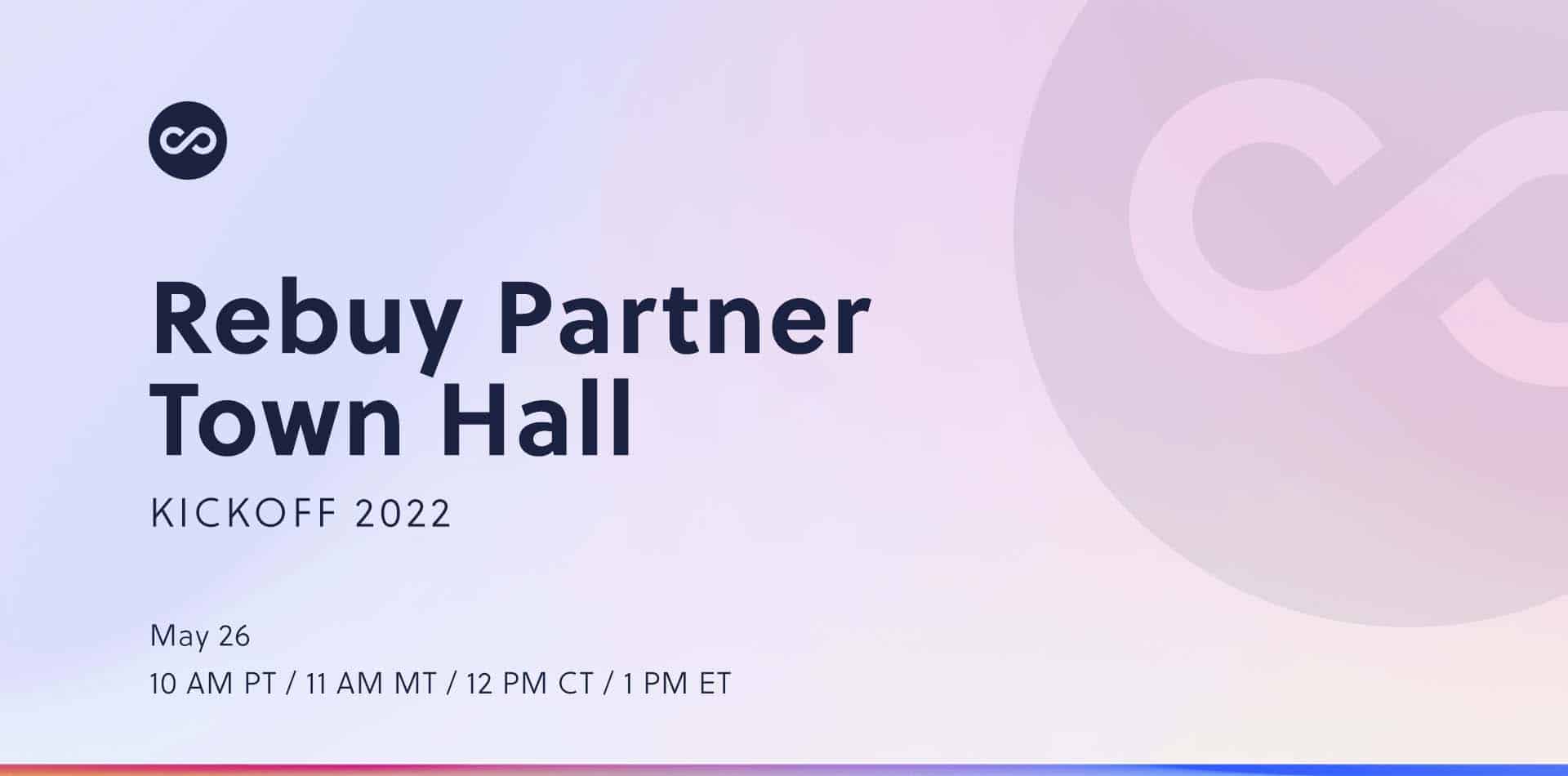 Rebuy recently held a town hall to kickoff their agency and tech partner programs.
Back in 2017, John Erck and his brother James came up with the idea of Rebuy, born from a love of ecommerce. Rebuy is a personalization tool for driving increased AOV, LTV, and conversion rates. Personalized product recommendations can be implemented throughout the entirety of a merchant's website to leverage the true power of upsells and cross-sells. (also offers omnichannel personalization for ecommerce brands on Shopify and ShopifyPlus!). Recently, we had the pleasure of attending Rebuy's partnership town hall, and to say we are excited for their Q3 and Q4 would be an understatement. Let's check out a few highlights from the event.
First, Rebuy has partnered up with Klaviyo, a leading email marketing and SMS automation platform, to bring personalized and customized email flows to customers and potential customers. This integration brings a unique product experience by directing the user to a dynamic landing page based on their behavior on-site, increasing conversion. They also plan on launching the Rebuy Smart Cart™ App Store, allowing developers to build a customer checkout experience for a more personalized and valuable customer flow.
Next, Rebuy has partnered with Recharge to launch the Recharge Customer Portal Recommendations. This partnership sprung from the need to offer up relevant product add-ons directly to the customer through their portal. With this solution, merchants can offer one-time items, subscription products, and include dynamic discounts for the customer, increasing CLV.  Customers can expect to have desired product recommendations automatically added to their next delivery date, creating a seamless experience for both their Recharge subscription products and Rebuy upsell or cross-sell recommendations.
A huge asset update here is their library for developer resources – the Rebuy Developer Hub. This includes comprehensive guides and streamlined resources to assist developers to work with Rebuy quickly and efficiently. A unique element of Rebuy is that its founders are also developers, allowing the company to have a fuller spectrum of understanding toward the merchant's needs, and a more seamless flow of communication internally.
"We implement Rebuy in about 3 or 4 different places and it's immediate ROI." – Brandon Armoroso, Founder & CEO of Electriq Marketing
With a mind prioritized for personalization, Rebuy wants to continue merchant and partner driven development. We look forward to our continued partnership!
Want more information on how we can integrate you with partners like Rebuy? Drop us a line.
Let's talk about scaling your digital business.
We Love to Talk eCommerce... or Really Anything!